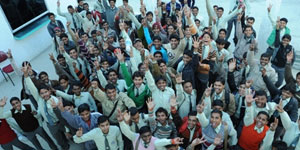 ACEM

at a glance

ACEM was founded in 2010. Since its inception, it is associated with eminent personalities from the Engineering and Management Gurus. The affairs of the Institute are managed by a Council which, in turn, consists of Board Members. Each of these members is an achiever and a scholar. At ACEM, our main objective is to ameliorate the overall position of the students belonging to the lower and middle classes of our society, who have, so far, been bereft of their due privilege to have professional education.

So, we have embarked upon furthering the noble cause of imparting professional education in the field of Diploma Engineering. Our efforts have and will lead to the generation of employment opportunities for students mainly belonging to the lower and middle classes of the Northern and Eastern belt of our country.

A couple of years ago, the idea of establishing the institute arose in the mind of the Founder and Director Mr.Vijay Singh. What ultimately led to the fruition of that idea was the growing demand for Diploma Engineers.

There was no Institute for addressing that demand by providing high quality diploma engineering education leading to high profile employment opportunities. Due to the absence of an institution, interested students were required to relocate away from their homes. This was a major constraint as relocation is difficult and expensive. In addition, even the options that were available did not have an affordable fee structure. Naturally, therefore, there was a need for an institution that provided the right kind of professional education for an affordable fee. The administrative team as well as the faculty teams at ACEM has been selected very carefully.

These teams maintain the infrastructure and provide the instruction required to ensure a sound education in Diploma Engineering. While the infrastructure at ACEM is modern, the teaching process at ACEM is highly interactive, and enables students to have the right balance of theoretical and practical knowledge. There is great emphasis on etiquette, discipline, obedience, and soberness. In fact, model behavior is the key to success in the Engineering Industry, and this knowledge and awareness is effectively transmitted to students.

This is facilitated through specialized laboratories at ACEM that give student's exposure to various facets of an actual work environment. As a result, students make the transition from student life to professional life easily and effectively.

ACEM students are treated with great care and sensitivity. Each student receives individual attention. Personalized attention has a tremendous impact on the concentration level and performance of students. It motivates them to excel and improve. In fact, this is one of the major factors that have enabled ACEM to carve a niche for itself in the field of Engineering. Today, ACEM is the pioneer Institution in this region for Diploma Engineering.